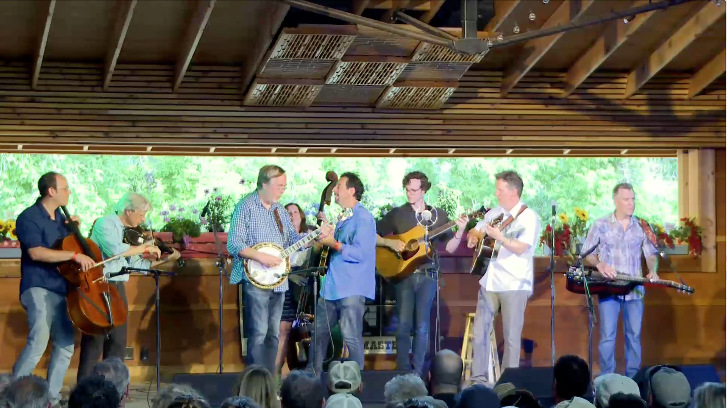 Good News: We have some exclusive new videos for anyone in our bluegrass schools. It's the ArtistWorks Bluegrass All Stars performing live at RockyGrass 2016!
The two songs are played back to back: "The Puppy Belly Dance" and "Fox Chase". We also uploaded their performance of "State Line". There's a fun impromptu dueling guitar portion between Michael Daves and Bryan Sutton in that one, very entertaining! After that Mike Block leads the gang in "Johnny B. Goode". Next we have their performance of "Chief Sitting in the Rain". For anyone who plays mandolin, Mike Marshall teaches a great version of this in his school.
We added "I'm Blue, I'm Lonesome", a classic bluegrass tune that Bill Monroe wrote with Hank Williams a long time ago. Michael Daves teaches how to sing both the lead and tenor vocal parts in multiple keys in his intermediate curriculum for those interested in adding this to your jam list.
Update: we just added another classic. "Way Downtown" is a Doc Watson classic, and it's sung here by Bryan Sutton and Michael Daves in this lively performance. For the fiddlers out there, Darol Anger teaches this tune in his Beginner and Intermediate curriculum. For Mandolin pickers, Mike Marshall teaches this in his Beginner curriculum.
You can find all this great exclusive content +Music section of the Learn area!
Proudly Featuring:
Mike Block - cello / vocals
Darol Anger - fiddle / vocals
Mike Marshall - mandolin / vocals
Tony Trischka - banjo / vocals
Bryan Sutton - guitar / vocals
Andy Hall - Dobro / vocals
Missy Raines - double bass / vocals
Michael Daves - guitar / vocals
Believe it or not, this was the first time in history this lineup has ever been seen. Thankfully we had the ArtistWorks team on the scene to film the whole thing. Each teacher brought a song to the setlist andhad very minimal time to practice together. As you can see in the footage, they each put on on amazing performance that really showcases their incredible talents. It was an honor to be there and capture it in all its glory!