Jazz Lessons Online
9 great jazz teachers help you play like you dreamed you would.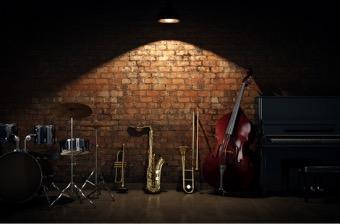 About Our Jazz Instrument Lessons
Learn to play jazz from masters of the genre. Each online jazz lesson is filled with essential knowledge, from jazz chords and standards to improvisation techniques..
Watch A Preview 
Jazz Courses
Martin Taylor




Fingerstyle Jazz Guitar

The 14-time British Jazz Award recipient teaches his signature fingerstyle guitar playing for all skill levels.

Mike Block




Cello

The cello phenom breaks down jazz, bluegrass and classical styles from fundamental skills to ensemble playing.

John Patitucci




Jazz Bass

Grammy® winning jazz player teaches his groundbreaking electric bass and acoustic jazz style for all skill levels.

Howard Levy




Harmonica

Founding Flecktone and diatonic harmonica master teaches everything from basic blues harp to jazz and world music.

Peter Erskine




Jazz Drums

The Grammy® winner and renowned jazz drummer shares essential jazz drum skills, techniques and much more.

Dave Stryker




Jazz Guitar

The chart-topping guitar veteran shares essential warm-up exercises, improvisational jazz secrets, and more.

Eric Marienthal




Jazz Saxophone

Grammy® winning saxophonist teaches jazz warm ups, exercises and jazz improvisation for all skill levels.

George Whitty




Jazz Piano

The Grammy® winning jazz player shares his masterful trade secrets in the ArtistWorks jazz piano school.

Chuck Loeb




Jazz Improv Guitar

The late guitar mastermind lives on in hundreds of video lessons, spanning basic to signature jazz guitar skills.

Luis Conte




Percussion

The Grammy® winner teaches how to apply Latin percussion and world rhythms using common beats & patterns.
Why Learn Music From ArtistWorks?
Start by learning about our unique Video Exchange Learning
Watch 

Learn music at your own pace, on your own schedule

Hundreds of Music Lessons, for all levels, from beginner to advanced.

Multiple popular instruments to choose from.

Play the video in slow motion and utilize video looping

Sign Up for a Free Lesson
Choose an instrument and style, and we'll send you free lessons that are tailored to your musical goals. You'll also receive exclusive discounts, news about our latest courses, and much more.