Online Music Lessons
from Master Musicians
ANY INSTRUMENT, ANY STYLE. LEARN FROM YOUR FAVORITE MUSICIANS AND START PLAYING AT A HIGHER LEVEL!
Featured Courses
Andy McKee




Acoustic Fingerstyle Guitar

The acoustic guitar virtuoso teaches his innovative fingerstyle methods in a course designed for all levels.

Stu Hamm




Electric Bass

Progressive rock bass guitar icon teaches online electric bass lessons for players of all levels.

Bryan Sutton




Bluegrass Guitar

Grammy® and multi-IBMA Guitar Player of the Year teaches bluegrass guitar lessons for everyone.

Paul Gilbert




Rock Guitar

The Grammy-nominated rock guitarist breaks down his indestructible playing techniques in an approachable way.

Noam Pikelny




Banjo

"Punch Brothers" cofounder and acclaimed banjo master teaches 3-finger/Scruggs, melodic & single string style.

Sierra Hull




Mandolin

3-time IBMA "Mandolin Player of the Year" & Grammy nominee teaches bluegrass mandolin lessons for all levels.

Jared James Nichols




Blues Rock Guitar

World-renowned riff master teaches blues and hard rock guitar lessons for players of all levels.

Chris Eldridge




Bluegrass Guitar

"Punch Brothers" co-founder and acoustic guitar virtuoso teaches bluegrass guitar for players of all levels.
Join a Thriving Music Community
Explore Our Online Music Lessons
Each course has a massive lesson library that covers everything from basic fundamentals to advanced techniques, with key learning strategies presented every step of the way. From guitar to piano, banjo, ukulele, and beyond, our virtuoso faculty offers high-caliber instruction to teach you how to play. Our online music lessons are accessible anywhere, from any device!
View All Courses
Take Part in Video Exchange Learning
®
Our mission is to teach you how to play with masterful technique and make you the best musician possible. Video Exchange Learning® allows our teachers to guide your progress through every step of their online music lessons. Available only on ArtistWorks, Video Exchange allows you to record and upload practice videos, receive personalized video feedback from your instructor, and learn from other students' breakthroughs.
How It Works
Engage With Your Peers
Our platform was built for players just like you! Our students gain access to an engaged online community of fellow players with whom they can talk shop and make new friends, exchange their favorite tracks and videos, share their original songs, hear each other's progress, and encourage each other to grow as musicians. We have the best online music lessons for adults, teens, and aspiring musicians of all ages who've always wanted to learn how to play.
More About ArtistWorks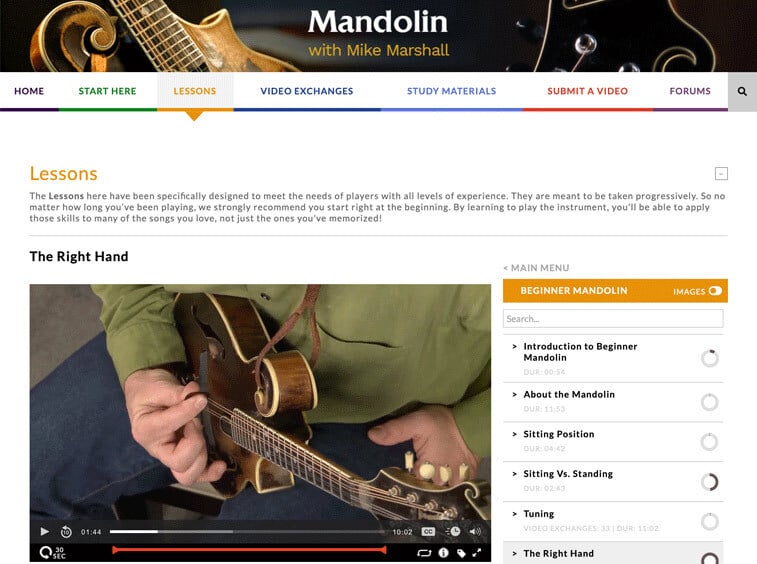 "My guitar playing is at a level I never would have achieved any other way…
Thanks for providing a journey that never ends."
- Simon, Bluegrass Guitar Student
ALSO FEATURED BY
Explore

Sign Up for Free Music Lesson Samples & Exclusive Offers
Choose an instrument and music style preference and we'll send you free music lesson samples, exclusive offers, news about our courses, teachers and much more!