4 Famous Cello Pieces You Should Know
Mike Block knows a lot about playing music, and we're so proud that he's now teaching people how to play cello online at ArtistWorks!
We recently asked him which famous cello pieces stand out as important ones to become familiar with as an aspiring cello player. Here's what he says:
Cello Suite No. 1, The Prelude - Bach
I like to call this piece the 'National Anthem' of cellists, because everyone learns it growing up.
In fact, whenever I perform this in front of other cellists I like to make them stand up and put their hand over their heart to show the proper respect! I remember performing Prelude 1 for the first time as an auxiliary solo during an Elementary School Strings concert in the gymnasium when I was in 6th grade.
Bach's Cello Suites are infamous for inconsistent bowings, and I can't think of any other movement that has started more arguments about the 'proper' bowing than this one. Be that as it may, it is still one of my favorite movements, and is a good one to pull out in almost any performance situation.
The Swan from "Carnival of the Animals" - Camille Saint-Saëns
This is one of my favorite Classical pieces for cello – it is beautiful and elegant, just like the animal it's named after.
It's a great opportunity to pull the most beautiful sounds possible out of the instrument. I originally learned this piece in High School, but also had a few unique opportunities to perform it as a duo with Yo-Yo Ma (I was pizzing the chords behind him), and I also got to play the melody in a live dance collaboration with Lil'Buck (Jookin' style dancer) at the Vail International Dance Festival in 2011.
Cello Concerto - Elgar
I worked on this piece for a good year and a half while studying at the Cleveland Institute of Music.
I was fortunate enough to win the school's concerto competition in spring of 2003, which meant I got to perform the entire piece with the CIM Orchestra that Fall. It was a transformative experience to dive so deep into practicing such a dark and melancholy piece for so long, only to eventually get the release of performing it with all my friends on stage in the orchestra.
The final movement of this piece yearns strongly for a time that no longer exists, and I remember during the performance trying to stretch every moment as long as possible so that the piece would never end.
Cello Concerto - Dvorak
I grew up listening to Yo-Yo Ma's version of this piece, dreaming of getting to play it some day.
In fact, at age 15, right around the time I was trying to figure out whether I was going to pursue music professionally, I got to see Yo-Yo perform it live with the Kansas City Symphony. I left the performance thinking, 'how can I go through life and NOT get to do THAT!?' I decided I would become a professional musician after that concert.
Ironically, I never ended up learning Dvorak Concerto in college, as I was focusing more on 'new music.' At this point in my multi-style career, I doubt I will ever get the opportunity to perform it live with orchestra. However, I'm actually fine with that, and when I listen to this piece I get a strong dose of nostalgia for my younger years.
Click here for free sample cello lessons!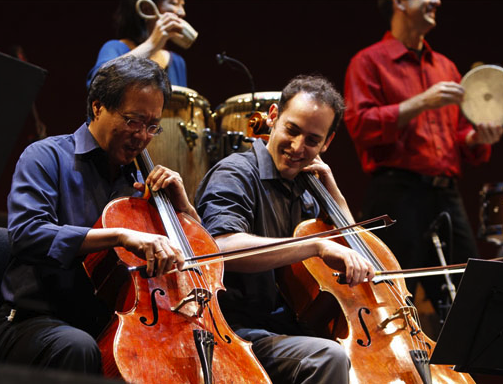 Mike Block playing cello with Yo-Yo Ma, photo by Todd Rosenberg
Related Cello Blogs:
Groups: