Online Guitar Lessons
14 GREAT guitar teachers help you play like you dreamed you would.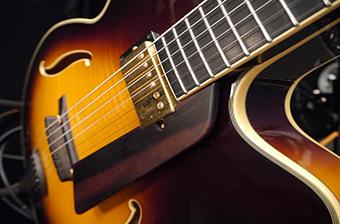 About Our Guitar Lessons
14 master guitarists deliver the best music courses on the Internet. Choose from rock, jazz, blues, country, bluegrass, classical and beginner acoustic.
Watch A Preview 
Guitar Courses
Andy McKee




Acoustic Fingerstyle Guitar

The acoustic guitar virtuoso teaches his innovative fingerstyle methods in a course designed for all levels.

Keb' Mo'




Americana Roots

Secure lifetime access to the entire three-volume guitar course taught by legendary blues master, Keb' Mo'!

Tyler Grant




Guitar

The National Flatpicking Champion teaches his guitar methods in this comprehensive course for all levels.

Bryan Sutton




Bluegrass Guitar

Grammy® and multi-IBMA Guitar Player of the Year teaches bluegrass guitar lessons for everyone.

Paul Gilbert




Rock Guitar

The Grammy-nominated rock guitarist breaks down his indestructible playing techniques in an approachable way.

Jared James Nichols




Blues Rock Guitar

World-renowned riff master teaches blues and hard rock guitar lessons for players of all levels.

Guthrie Trapp




Electric Country Guitar

The Nashville guitar icon teaches his signature Telecaster techniques, from beginner riffs to advanced solos.

Beginner's Guide




Rock Guitar

Designed for first-time players, learn rock guitar basics and classic rock songs from a Berklee professor.

Chris Eldridge




Bluegrass Guitar

"Punch Brothers" co-founder and acoustic guitar virtuoso teaches bluegrass guitar for players of all levels.

Beginner's Guide




Acoustic Guitar

Perfect for new or first time players, especially designed for adults. Learn acoustic guitar basics and easy guitar songs.

Keith Wyatt




Blues Guitar

"The Blasters" lead guitarist teaches classic and modern blues to Texas roadhouse.

Martin Taylor




Fingerstyle Jazz Guitar

The 14-time British Jazz Award recipient teaches his signature fingerstyle guitar playing for all skill levels.

Jason Vieaux




Classical Guitar

The Grammy® award winner, performer & noted professor teaches classical guitar lessons for all players.

Dave Stryker




Jazz Guitar

The chart-topping guitar veteran shares essential warm-up exercises, improvisational jazz secrets, and more.

Andy Hall




Dobro & Lap Steel

The Infamous Stringduster's and multi-IBMA award winner teaches Dobro & lap steel for players of all levels.

Chuck Loeb




Jazz Improv Guitar

The late guitar mastermind lives on in hundreds of video lessons, spanning basic to signature jazz guitar skills.
Why Learn Guitar From ArtistWorks?
Start by learning about our unique Video Exchange Learning for Guitar
Watch 

Learn guitar at your own pace, on your own schedule

Hundreds of Guitar Lessons, for all levels, from beginner to advanced.

Multiple popular genres to choose from. Acoustic and electric.

Play the video in slow motion and utilize video looping

Sign Up for a Free Lesson
Choose an instrument and style, and we'll send you free lessons that are tailored to your musical goals. You'll also receive exclusive discounts, news about our latest courses, and much more.